Contact Us
Barceló Maya Tropical - All Inclusive - Riviera Maya, Mexico
Vacation Store Miami offers All Inclusive Vacations at unbelievable discounts on an extensive selection of resorts in the Caribbean. Let our professional staff help you find your perfect family vacation, weekend getaway, spring break vacation or that special honeymoon.
Why choose Vacation Store Miami?
Guaranteed best prices on Caribbean Vacations.
Over 15 years of experience.
Did we mention BEST PRICES?
Satisfying our Guests is our principal aim. Therefore we would like to facilitate the reservations process with our telephone reservations service. If you need help, contact us by phone or EMAIL US.
Call Us Nationally at 1(888) 774-0040 or at (305) 774-0040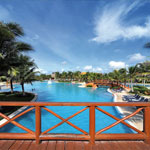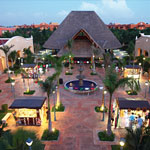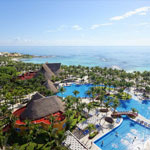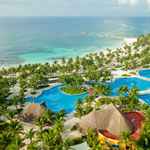 Barceló Maya Beach Resort
The Barceló Maya Tropical Hotel forms part of the Barceló Maya Beach Resort complex, a group of 5 luxury all inclusive hotels on the Mayan Riviera, that will make this the vacation of your dreams.
In addition to the Barceló Maya Tropical, the following hotels are part of the Barceló Maya Beach Resort: Barceló Maya Palace Deluxe | Barceló Maya Beach | Barceló Maya Colonial | Barceló Maya Caribe
Dolphinaris at Barceló
Enjoy the best interactive experience with dolphins at the new Dolphinaris at Barceló dolphinarium, located facing the beach and surrounded by beautiful tropical landscapes. The enclosure is certified by the European Association for Aquatic Mammals.
The dolphinarium is located within the complex and is for the exclusive use of guests of the Barceló Maya Beach Resort Hotel. It has an innovate concept of shallow platforms, to safely hold interactive programs for each visitor.
For the comfort of the swimmers and their companions, the facilities have service areas such as check-in, customer service, an induction palapa, an innovative exterior lounge where they will hold training classes during the star program Trainer for a Day, as well as a photo and video store.
Dolphinaris at Barceló offers 4 different programs, designed so that everyone can enjoy an unforgettable experience.
They start with a surprising presentation of acrobatics, followed by an orientation where you can ask our highly experienced trainers any questions you may have about dolphins.
Other activities included, depending on the program you choose, may be: diving with dolphins, underwater observation wearing goggles, kisses, greetings, hugs and the famous "footpush", among others.
General opening times for the programs:
Monday to Sunday: 9.30am, 10.30am, 12pm, 1.30pm and 3pm.
Opening hours:
Monday to Sunday: 9am to 5pm.
Show open to the public:
Monday to Sunday: 11.40am.
Swimming Pools and Entertainment
Impressive swimming pool with hydromassage.
Semi-Olympic swimming pool.
Free use of pool towels, sun loungers and hammocks.
Day time and evening entertainment with activities for all ages.
Free entry to the disco, including local drinks.
Children's Club (for children from 4 to 12 years old)
Kids' facilities
Barceló Maya Tropical is the ideal location for children and teenagers to really enjoy their vacation. We also offer the fantastic Barcy Kids Club with an entertainment program for children from 4 to 12 years of age.
At the Teen Club, adolescents will find something up their alley with the hottest new games. We also offer pool (billiards), video games and the best music. Sports Available at the Hotel
Professional football field with changing rooms.
Basketball and multi-sports courts.
Tennis courts (equipment included; lighting at an additional cost).
Padel tennis courts (equipment included; lighting at an additional cost).
Snorkeling equipment.
Kayaks.
Water trikes.
Windsurf (standard vessels)**
Sailing sports (standard vessels)**
Diving (one lesson in the pool once a week).
Aquatic aerobics in the pool.
Volleyball.
Table tennis.
Waterpolo.
Darts
Giant chess.
Billiard tables.
**Prior booking and minimal skill are required.
Additional services
Regular Catholic mass held in the Iglesia Nuestra Señora de Guadalupe [Church of Our Lady of Guadalupe] (located within the Plaza Mexicana shopping center) Ambulance at the Hospiten Medical Center (additional cost).
Plaza Mexicana shopping center, where you can find gifts and artisan crafts, multi-brand boutiques, jewelry, pharmacy, Logo Shop and Photo shop.
Other Facilities
Maya Express train. Move around the full Barceló Maya Beach complex at your convenience by train (at no additional cost).
Service every 20 mins. from 8am to 2.30am. (8am – 2.30am).
Children's club
Barcy Club for the little ones aged 4 to 12, a fun programme of activities with trained staff to look after your children.
Parents can enjoy the safety and peace of mind of knowing their children are in an environment that will let them have the time of their lives.
The buffets of the Barceló Maya Beach complex has a child-size bar, where they can find their favourite foods such as hamburgers, mini vegetables, chips, chicken nuggets, cheese fingers, fish fingers, spaghetti, French baguettes, mini fruits, hotcakes, yogurts, desserts and of course, ice cream for everyone!
TheKid's Club activities are supervised and include:
Games with our entertainment team
Beach outings.
Puzzles
Handicrafts
Balloon contests
Films
Beach volleyball
Sand castles
Football
Board games
Dance classes
Mini disco